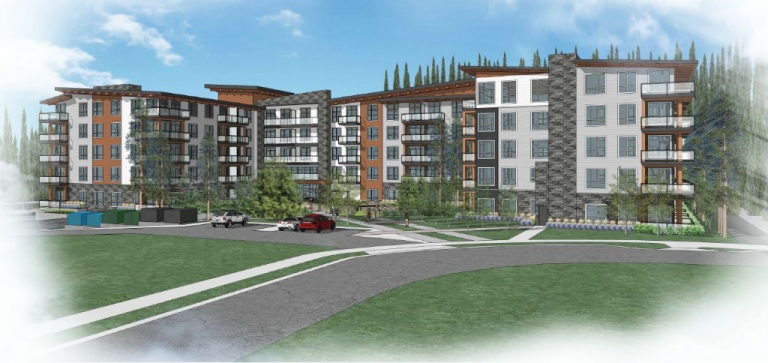 Exciting news for the Town of Canmore!
Last night at the town council meeting, Council unanimously approved the development permit for the 159-unit apartment building at 120 & 130 Kananaskis Way. With the support of, and in collaboration with the Town of Canmore, this building, funded through the private sector, will provide 159 additional rental units – that's right, you read it correctly –
rental
units into the Bow Valley, along with a children's playground and community art piece, to be determined at a future date.
Of course, this development approval does come with some amendments to the plan presented last night, and there seemed to be an awful lot of talk about the garbage bin screens, rather than the skimping on parking stalls.
However
, upon further thought and consideration, I understand that rarely does one get it all. The upside to the shortage of parking stalls, comes in a fairly forward-thinking alternative: 220 bike stalls. 
---

---
At first when I saw the parking stall numbers, I wasn't sure what to think. Clearly the plan was lacking in that there aren't even enough parking stalls for each unit to have one stall, let alone multiple stalls when sharing a flat with roomies. However, keeping in mind the location of the property with superior access to transit, the walkability to downtown and of course, the fact that biking is the less expensive and often enough, also the year round choice of mode of transport within the Bow Valley, the 220 bicycle stalls are very much in alignment with what the TOC has been advocating for this past summer: Less cars, more transit, and more biking and walking. The Town has made it quite clear that they do not want cars downtown, even approving a new metered parking plan for Main Street due to come into effect this Fall. Not to mention the fact that there is a group of locals who can, and do operate without a vehicle.
The stress of the cost of living in Canmore is on the forefront in practically every conversation about the Bow Valley. From social media community group pages where posting affordability woes are commonplace, to desperate souls trying to track down decent accommodations in order to finalize their relocation to Canmore. But do not despair! All hope is not lost.


Dealing in real estate is even a tricky balancing act between the contrasting needs of vacation home buyers, investors and locals; but most times our job as professional advisors is to help educate consumers on the process.


Are you aware of all of the programs available to you as a consumer?

Have you spoken to a mortgage specialist?

Do you need help to put a plan into place to save for a down payment?

Do you know how much you need for a down payment?



All of these little details can actually make a difference in positioning yourself to buy a home in the Bow Valley.
Feel free to reach out to us for a no-obligation education session. We are always willing to help others achieve their goals and dreams!

---
---
For more information on this from the Town of Canmore visit 
here
.