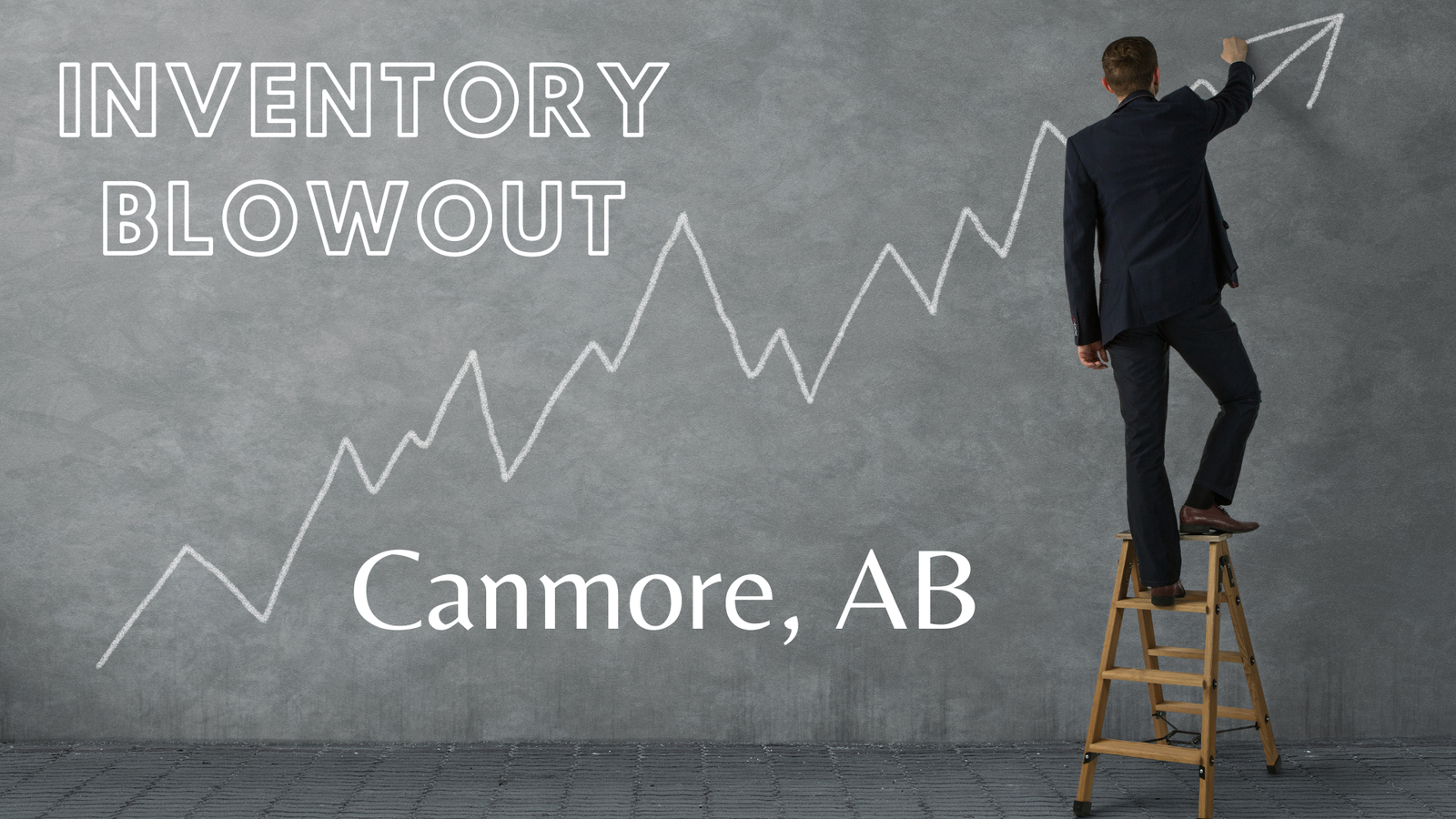 Canmore's real estate market has been running hot since the summer of 2020, and continues to be in high demand today. The dwindling inventory is not helping with many of the listings selling for above list price; but not always every house and in every situation. Thankfully a lot of the frenzy is staying in its own lane with investors mostly interested in Hotel Condos and Airbnb zoned properties. However, with an increased focus on this sector, prices are being pushed and competition 

is fierce

for the more commonly known and top-rated local brands. That said, there are still opportunities if you know where to look; it's actually where most people aren't looking that often yields the best competitive advantage in a market such as this.
Overall, we have seen inventory dwindle from 250+ active listings, down to 117 at the time of writing this. After a short lull proceeding the announcement of the global pandemic last Spring, we started seeing a spike in activity accelerated by personal circumstance, stemming from the life-changes last year brought across the country. 
As we all held our breath last Spring to see which way the market would go, plenty of economists have admitted their early predictions were wrong. Nobody really saw the feeding frenzy coming, driving up prices in communities across the country, Canmore included. But Canmore has always been desirable, in fact it's one of Canada's best kept secret lifestyle locations, but now becoming less of a secret.
Its proximity to Calgary, a world class city with an international airport plays a part, but it's really the nature-immersed lifestyle that has most folks targeting Canmore for weekend retreats, their retirement and even pre-retirement planning, plus those who are leaving the city behind altogether and moving their families here.
The hotel condo and short-term rental market has the attention of investors looking to cash in on the growing local tourism scene. Just a decade ago, Canmore was much lesser known, despite being located just 4kms from the park gates of the Banff National Park. And today we find ourselves a prize jewel of Tourism Alberta's newest designation as a destination management organization.
So what's driving people to Canmore? A lot of factors. 
As mentioned, we are seeing a whole lot of individualistic activity reflected in the market, as well as FOMO (Fear Of Missing Out). We are seeing many people making life-changing personal decisions, these ranging from; 
better remote working opportunities, vacating the city, bumping up retirement plans, even as far as a bit of retail therapy

or

"let's finally do it". We all know that creeping
www.realtor.ca
is a favourite Canadian pastime, maybe even second to hockey. The more time people spend dreaming about properties and locations, the more likely they are to start pursuing an idea; especially last year!
Canmore's local real estate market offers a few indicators of a market continuing strong. 
"The flats" as referenced by locals, includes the neighbourhoods of South Canmore, Larch and Lions Park. There are still houses built in the 70s and 80s scattered through the blocks, and a few original undeveloped lots. 
For such a small town, with very little land left to develop, we are still seeing a ton of development and redevelopment, 
ranging from million-plus dollar homes, to duplexes and fourplexes. Construction is always a good indicator of the present economy and a good sign for the future.
 For example, in
 the community of Silvertip, one of the most desirable neighborhoods in the Canmore, you will find some of the largest, most opulent homes in the Bow Valley. Last year we seen an influx of development in this area as well, with builds as large as 6,000, 7,500 and even 12,000sqft. Another indicator of a bright future, giving the impression that Canmore may be pegged as the next Whistler. Yes Whistler, where the 

average transaction value of a single-family home is approx. $3.45M+ (median of $2.45M+). Townhouses are averaging $1.4M+ (median of $1.24M+) and condominiums are averaging a sales value of $839k+ (median of $675k+).
 Mind Blown!!!
This is likely a few decades away for Canmore, however, we have proof that in some locales the bubble is strong, and the potential ROI is huge. I write this, partly to educate and share some of my perspective, but also to shed some light on a geographic region that has world class amenities, an international airport in a world class city less than 100km away, and most importantly, the vast beautiful Rocky Mountains surrounding it. We have always said that we're lucky that more of the world doesn't know how amazing it really is here, or it would be crazy. W
ell, that time is upon us and we all need to pay attention to the opportunities at hand.
Donna and I have built our business developing strategies that make sense for each of our client's personal situation. Outside the box thinking is our everyday. W
ith Donna being a long-term real estate veteran, and myself having a 20+ year construction background, we have a holistic overview of the market, ensuring that our clients don't miss out on any opportunities.
Contact us if you want to have further discussion, or want to engage us as a local partner to keep an eye out for something that fits your needs

ryan@liveworkplay.today

or



donna@liveworkplay.today